Use Siri on your Mac. Siri on your Mac can help you with everyday tasks, get quick answers and information, play music, and more. You can ask Siri so many things—from "Set up a meeting at 9" to "What was the score for last night's game?" Siri is there to help. Siri can make suggestions in some apps even before you ask. With MacOS Sierra, Apple's voice assistant made the leap from the iPhone to the Mac. There are three built-in ways to activate Siri on a Mac, but all require you to click your mouse or the keyboard.
Like Siri on your other Apple devices, Siri on Mac is your intelligent personal assistant, helping you multitask and get things done. For example, while you work on a document, you can ask Siri to send a message to your coworker saying that the document is on the way—without having to stop what you're doing.
Here are some of the many other things you can ask Siri to do. You can also ask Siri, "What can you do?"
'Show the PDFs in my Downloads folder."
"How much free space do I have on my Mac?"
"Play the top 40 jazz songs."
"What's the weather in Lake Tahoe?"
"Find tweets from José Bautista."
"Search the web for images of the Eiffel Tower."
"Show me all of the files I shared with Cecilia last week."
"FaceTime Victoria."
'Add Laura to my 10 AM meeting."
"Show my photos from yesterday."
"What time is it in Monterrey, Mexico?"
"Find coffee near me."
Starting with macOS Mojave, you can use Siri to play a sound on a device to help you find it. For example, if you turn on Find My iPhone for your devices, you can ask "Where's my iPhone?' or "Where's my Watch?"
Ask Siri
To ask Siri, take any of these actions, then just say what you need:
Click in the menu bar, Dock, or Touch Bar.
If Siri is already open, click or in the Siri window.
Press and hold the Command (⌘) key and Space bar until Siri responds.
Say "Hey Siri" on a Mac that supports 'Hey Siri.' On notebook computers that support this feature, the lid must be open.

If Siri doesn't close automatically, click or swipe right to close.
If Siri doesn't hear or understand you
Make sure that you're using macOS Sierra or later.
Choose Apple menu  > System Preferences, then check your microphone selection in Sound preferences or Siri preferences. Or test with a different mic, such as the mic in your AirPods or Apple Earphones. If you're using a Mac mini or Mac Pro, you must connect a mic for Siri to hear you.
If Siri seems to hear you but not understand you, make sure that your language and dialect are selected in Siri preferences.
If Siri can't connect to the network or asks you to try again in a little while, check your Internet connection.
Ask Siri to find files on your Mac
Siri makes it easy to find files on your Mac, using various criteria. For example, you can ask Siri to "search for all the documents I opened this month." Then show "just the ones titled lesson."
Keep Siri results where you can find them
You can keep important information provided by Siri right in Notification Center . So you can easily access sports schedules, Twitter feeds, files that are related to your big project, and much more.
Just click at the top of your Siri results. Your information will stay up to date, so you always know where to find game times, trending topics, or important documents.
Drag Siri results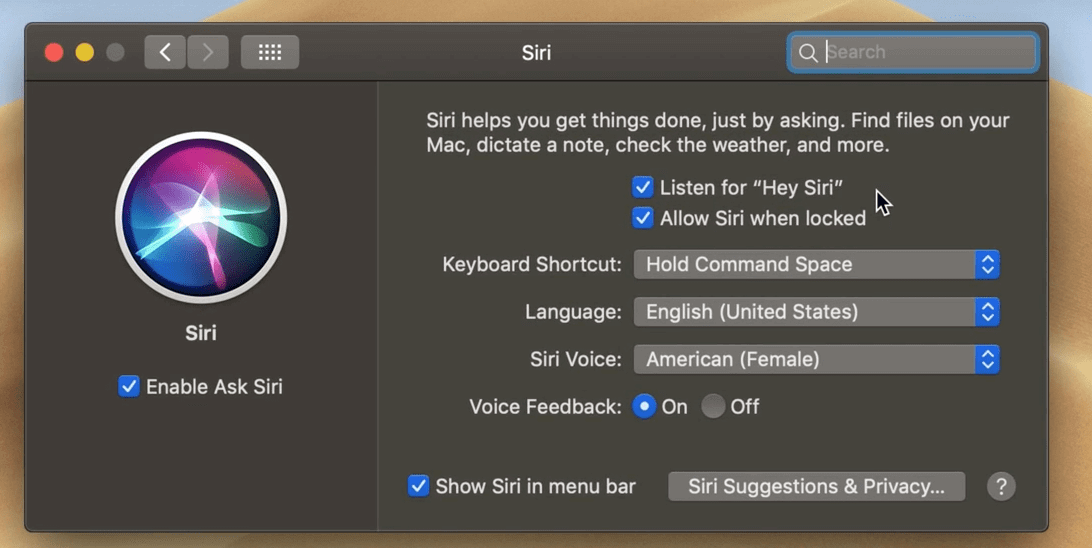 You can drag some types of information found by Siri into a window or application on your desktop. For example, after asking Siri to find an image on the web, you can drag an image from the results into a Pages document:
Siri For Apple Macbook Pro
Edit your Siri request
To edit your request instead of making a new request, double-click your words in the Siri window, then enter your changes from the keyboard and press Return.
Change Siri preferences
Choose Apple menu  > System Preferences, then click Siri. Or just ask Siri to open Siri Preferences. You can adjust settings such as the Siri keyboard shortcut, the gender and dialect Siri uses, and whether Siri gives voice feedback. And if you're using macOS Catalina or later, you can choose whether to delete Siri and dictation history.
Learn more about Siri preferences.
Learn more
Learn how "Hey Siri" works with multiple devices.
Learn how to control your home with Siri.

Siri features might vary by country or region.
Unknown files are uploaded to our Protection Cloud and analyzed by AI technology. All our clients profit from protection in real-time. Check your Activity Stream and see at a glance all the security-related activities on your Mac, including blocked threats. If a new threat is detected, all your devices are protected within minutes. Best free antivirus protection for macbook.
Siri is the world's most popular intelligent assistant, and now has an all new compact design. With SiriKit and Shortcuts, your apps can help users get things done with just their voice, intelligent suggestions, or the Shortcuts app. Your apps can now also integrate with more platforms with Shortcuts on watchOS 7, SiriKit Music on HomePod, and SiriKit Media on Apple TV.
Shortcuts
Help users quickly accomplish tasks related to your app with their voice or with a tap with the Shortcuts API. Siri intelligently pairs users' daily routines with your apps to suggest convenient shortcuts right when they're needed on the lock screen, in widgets, in Search or from the Siri watch face.
Conversational Shortcuts
Siri can ask follow-up questions, which allows your shortcuts to get even more done. For example, when a user says "Order takeout," Siri can ask, "Which order would you like?" and present a list of favorite orders from a food ordering app to choose from.
Visual Lists
NEW
With new visual lists in iOS 14, you can now display visual information when prompting the user to choose between a set of options. For example, when a user asks to add groceries to their cart, Siri can show a picture, price, and description for each item.
Siri Suggestions and Suggested Events
Siri learns the user's routines to suggest relevant shortcuts from your app at just the right time on iOS, iPadOS, and watchOS. Siri can even detect events in your apps and create helpful suggestions to add them to Calendar, reminders to check in with your app, and directions when needed. Siri learns locally on device to maintain user privacy.
Event suggestions can also extract and surface content from emails and websites. Submit a request to include information associated with your domain.
Shortcuts App
The Shortcuts app enables users to create personal shortcuts with multiple steps from their favorite apps. Using the Shortcuts API, your app can expose actions that can be paired with actions from other apps, with information passing between apps. watchOS 7 brings the Shortcuts app to Apple Watch and supports running shortcuts from Watch Face complications. The Shortcuts app in iOS 14 and iPadOS 14 adds folder support and a new compact UI when running shortcuts.
HomePod
Users control HomePod with their voice to conveniently access iOS apps that support Shortcuts and SiriKit Music, Messaging, VoIP calling, Lists, and Notes.
Integrate Your Music Streaming Service
With SiriKit Media Intents on HomePod, streaming music services can integrate directly with HomePod to deliver a seamless playback experience for their users. Users can simply ask Siri to access music and playlists from your service and play them on one or multiple HomePod speakers throughout the home.
If you'd like to integrate your service with HomePod, let us know.
SiriKit
Apps adopt SiriKit by building an extension that communicates with Siri, even when your app isn't running. The extension registers with specific domains and intents that it can handle. Siri handles all of the user interaction, including the voice and natural language recognition, and works with your extension to get information and handle user requests.
"Play Today's Hits in MyMusicApp."
Music. Search and play songs, artists, albums, stations or playlists. Add songs to your library or playlist, and like or dislike content to suit your tastes. Part of media intents.
Works with HomePod
"Find kids videos in MyMediaApp."
Media. Search and play videos, podcasts, and audiobooks.
"Look for beach photos taken last summer in MyPhotosApp."
Siri Apple Mac
Photos. Look for photos and videos of particular content type and play slideshows in the app of your choice.
"Send a text to Carey using MyTextApp."
Messaging. Send and receive text messages through apps that support messaging. Have incoming messages read automatically with Announce Messages. Now supports audio messages in iOS 14.
Works with HomePod
"Lock my car with MyCarApp."
Car Commands. Manage vehicle door locks and get vehicle information.
"Get me a ride to SFO with MyRidesApp."
Ride Booking. Request a ride through apps that provide ride sharing and other taxi-like services.
"Call Mike on MyVoIPApp."
VoIP Calling. Initiate video and audio calls with apps that support voice over IP.
Works with HomePod
"Send $100 to John for dinner last night using MyPayApp."
Payments. Send and request payments to and from other people, using apps that support personal payments.
"Start my daily run workout from MyWorkoutApp."
Workouts. Start, pause and end workouts using your favorite workout app.
"Add eggs and milk to my grocery list in MyListApp."
Lists and Notes. Create reminders, notes, update a to do list, or check your grocery list.
Works with HomePod
"Show my personal contact QR code in MyFriendsApp"
Visual Codes. Display your QR Code for a friend to scan.
"Set the heater to 72 degrees from MyCarApp."
CarPlay. Specifically designed for CarPlay automaker apps, this allows users to interact with a vehicle's CarPlay system.
Comments are closed.